Categories
Categories
Brands
Brands
BIOTRONIK 357510, Passeo-18, OTW PTA Balloon Catheter, 0.018", 4Fr, Lenght 120mm, Usable length 130cm, box of 1
BIOTRONIK 357510, Passeo-18, OTW PTA Balloon Catheter, 0.018", 4Fr, Lenght 120mm, Usable length 130cm, box of 1
BIOTRONIK 357510, Passeo-18, OTW PTA Balloon Catheter, 0.018", 4Fr, Lenght 120mm, Usable length 130cm, box of 1
Product Description
BIOTRONIK 357510, Passeo-18, OTW PTA Balloon Catheter, 0.018", 4Fr, Lenght 120mm, Usable length 130cm, box of 1
Indicated to dilate stenosis in the femoral, popliteal and infrapopliteal arteries and for the treatment of obstructive lesions of native or synthetic arteriovenous dialysis fistulae.
Highly pushable coaxial shaft design for access to distal lesions

Predictable balloon expansion (controlled compliance)

Low profile, wide range: ø 2 - 7 mm and 20 - 200 mm balloon lengths

Patchwork coating designed to facilitate crossing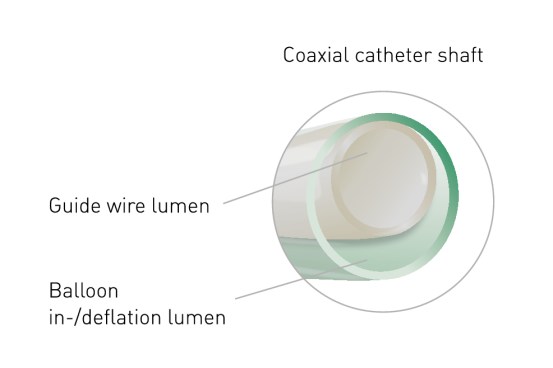 Highly Pushable Coaxial Shaft Design
The available low profile 3.8 F coaxial catheter shaft
design facilitates access to distal lesions
and allows reduction of access site complications¹ through the ability to use a 4F access sheath.
Tip
Smooth tapered tip entry profile promoting enhanced lesion crossing.
Predictable Balloon Expansion (Controlled Compliance)
The innovative balloon design and semi-crystalline polymer (SCP) material enable a predictable balloon compliance rate. This controlled compliance is designed to minimize the risk of dissection due to balloon over-dilatation.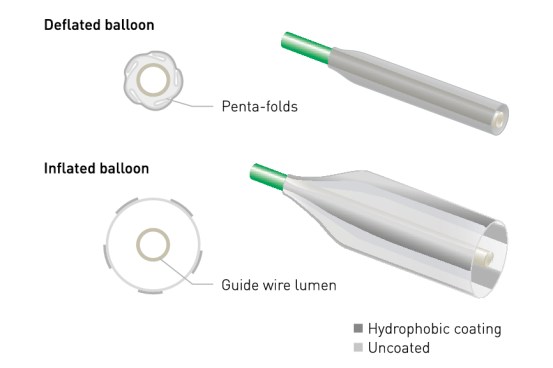 Patchwork Coating for Enhanced Crossability
The penta-folded balloon is coated in a folded state, exposing uncoated balloon sections when inflated. This is intended to facilitate crossing while minimizing slippage during inflation.


Passeo-18 Balloon Catheter

Catheter type

OTW

Recommended guide wire

0.018"

Tip

Short, tapered

Balloon material

SCP (semi-crystalline polymer), controlled compliance (4 - 8 %)

Balloon folding

5-fold

Balloon coating

Hydrophobic patchwork coating

Balloon markers

2 swaged markers (zero profile)

Sizes

ø 2.0 - 7.0 mm; L: 20 - 200 mm

Shaft

3.8 F, 3.9 F (ø 6.0/7.0 mm x 170 - 200 mm); coaxial design

Usable length

90, 130 and 150 cm
Balloon Diameter x Length (mm)

Nominal Pressure

atm3

6

6

6

6

6

6

6

6

6

6

6

6

6

6

6

(NP)

ø (mm)

2.0

2.0

2.5

2.5

3.0

3.0

3.5

3.5

4.0

4.0

5.0

5.0

5.0

6.0

7.0

Rated Burst Pressure

atm3

15

14

15

14

15

14

15

14

15

13

15

12

13

12

12

(RBP)

ø (mm)

2.1

2.1

2.6

2.6

3.2

3.2

3.7

3.7

4.3

4.2

5.3

5.2

5.2

6.2

7.3




Find Similar Products by Tag
Product Reviews
Find Similar Products by Category
Customers also viewed